Office Goals and Leadership
President Helble established the Office of Strategic Planning and Initiatives to first conduct a formal Strategic Plan that will chart Lehigh's path for the coming decade, setting priorities for our educational and research mission, and then provide continuous assessment of the University's goals and achievements of emerging initiatives. The Office provides focused effort toward the re-examination of our past goals and the assessment of our progress against them.
Chris Cook | Vice President of Strategic Planning and Initiatives

Vice President
chc921@lehigh.edu
Chris Cook has nearly 30 years of experience in Higher Education. Serving as the Vice President for Strategic Planning and Initiatives, she works with the President, Provost and university leadership to create, communicate, implement and sustain strategic initiatives, identify emerging trends, and recommend new initiatives. Before joining Lehigh University, she worked at Dartmouth College, serving most recently as Vice Provost for Strategic Initiatives and Resource Planning where she advised the provost on academic and operational matters, provided guidance and leadership on strategic projects, engaged in space planning and represented the provost on capital projects; she also served as Chief Financial and Administrative Officer for the Thayer School of Engineering at Dartmouth from 2016-2020. Prior to that, she spent 23 years at the University of Delaware where she served in various roles including Sr. Business Officer for the College of Engineering and Associate Provost for Research Administration for the University.
Pat Mann | Director of Administration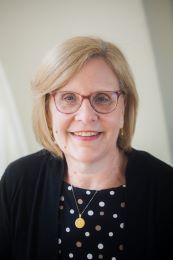 Director of Administration
pam8@lehigh.edu
Pat joined Lehigh University in 2003 after a 26-year career at Bethlehem Steel. In her current role of Administrative Director, she provides counsel and a high degree of project management support to the Office of Strategic Planning & Initiatives. During her time at Lehigh she has served in various offices including University Communications and Public Affairs and most recently, the Office of the Provost. Having participated in many campus wide committees and initiatives, Pat's breadth of experience with Lehigh's senior leadership, faculty and staff give her a unique insight and understanding of our institution.